Press
Interested in working with us? Contact us directly here.
Gavin Maloof joins Dave Elger of Hot Mixology for some VIP treatment, cocktails and Never Hungover. After Gavin tells him about the ingredients and how to take Never Hungover, they lift a class and cheers to the times they wish...
Continue reading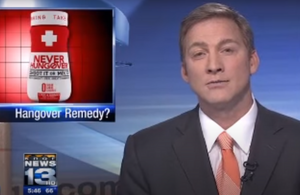 KRQE talks about Never Hungover, the Maloof family and how the product's release into Albuquerque where the Maloof family has had great success in alcohol distribution.
Continue reading
ALBUQUERQUE, N.M. —A prominent New Mexico family said it's bottled a drink that can help prevent hangovers.  The Maloof family told our media partners at The Albuquerque Journal that their new drink Never Hungover will hit store shelves this week....
Continue reading